With many tools available to aid you in photo retouching, it is no wonder that like many professionals and newbies alike you might be wondering what the benefits of calibrating monitors when it comes to image editing are. Well, having the right tools for you photo retouching services is key to getting the best artistic outcomes from your photographs. Of course, your monitor is one of the most important tools in photo retouching; it enables you to see the images and expect that that is how the images in terms of color will remain the same even when viewed from other monitors.
But the consistency of the look across monitors is not always guaranteed. On the same note, there is the challenge of print matching; here you have to be certain that any prints of the image made will have the same level of brightness and consistent color. That is where monitor calibration comes in. To appreciate why the right tools are vital it's important to revisit briefly the vital role that Photo Retouching services play in the modern world.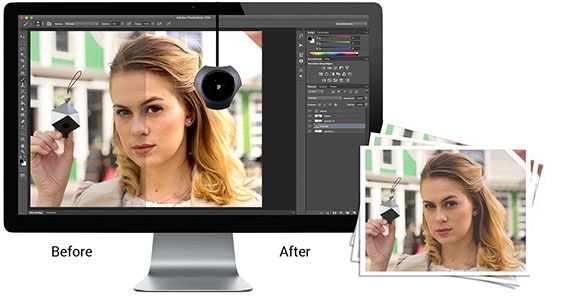 Without going into the definitions let's say that photo retouching enables you to greatly improve the quality of the images that you get from your camera. This quality is not only important for photos meant for private use but more so for images that have business significance. It's said an image is worth a thousand words. That is why photos and video images are part and parcel of advertising whether online or offline. With that said, let us turn our attention to the right tools to help you achieve excellent results in this task. For the benefit of new entrants into the photo retouching services, we start by explaining briefly what is meant by calibrating a monitor and then delve into the actual benefits of calibrating monitors when it comes to photo retouching
Read More:- Top 5 Photoshop Plug-ins For Photo Background Removal
What is meant by calibrating a monitor?
A monitor uses the Red-Blue-Green color space in which each pixel combines a given amount of these colors to output a specific color. The RGB values for every pixel are contained within the each image you intend to retouch. On displays that have been accurately calibrated, the image will look the same at all times.
Calibrating a monitor is the process of getting your monitor into a desirable and well-defined state. It normally involves adjusting various physical parameters on the monitor such brightness, in addition to coming up with a Look-Up Table. There are various tools that you can use to calibrate your monitor; however for our purposes here let's look at the benefits that you get by having your monitor calibrated
Benefits of calibrating monitors when it comes to photo retouching
Color accuracy
Color correction is one of the compelling reasons why you need to use a calibrated monitor. In most cases, monitors come with show room settings those bright, high-contrast screens. While such factory settings may be okay for the average user, they will certainly not help your endeavors in photo retouching. Note that any calibration of the monitor depends on the ambient lighting conditions in the actual location where the calibration was performed. So, since you will not be using the monitor from the same location where it was calibrated, you need to be matched precisely to the conditions of your unique work environment.
In both cases calibrating your monitor means, therefore, that you will retain color accuracy; but remember, this means recalibrating your monitor every time you move it to a new environment.
Saves money
As earlier noted, monitors do age and their operational settings change over time; a monitor will show this by the way it reproduces unintended shades of color. The fact that calibrating your monitor gives it a new lease of life means you don't have to spend money on a new monitor every time the old one gets to this level of performance. Regular calibration allows you to restore your old monitor's output for accurate color correction.
More reliable performance
Though it's true that most monitors come with factory calibrated settings, these calibrations are often not what a provider of photo retouching services requires. Remember, the default calibrations are only suitable for the environment in which they were made. The moment you relocate your monitor to a new environment it becomes necessary to recalibrate it so that it continues to give a reliable performance as far as color and brightness are concerned.
Standardizes your image output
Calibrating your monitor allows you to consistently meet and maintain professional industry standards. Regular calibration assures uniform output even when you are working in collaboration with others. It ensures your monitor is functioning within the preset industry standards for high-quality final products.
It is indisputable that calibrating monitors is an indispensable part of photo retouching. It ensures you deliver consistent image quality, you are able to do Photo color correction and saves your money by ensuring your old monitor continues to deliver high-quality images for a long time.