Selling clothes online has become a lucrative business for many people these days. As more buyers are looking to the online route for the convenience it provides, it is not hard to see why there has been an increase in the number of online clothes sellers too. As competition stiffens, you will definitely need to find ways that you can edge them out and make your apparels more noticeable and eye-catching. You will realize that how they are photographed can have a huge effect on how easy they are going to be for you to sell.
Capturing great apparel photographs
It is ideal to seek out the services of a professional photographer if you want to get really good looking photos that you can put up on your online store. However, it's not all the time that this is a viable and practical option. In cases where you need to get things done DIY, knowing what to do and what not to do is very important.
Your camera plays a very important role on the quality of the photos that you will be taking. Putting it in the right setting is very necessary. While it is true that a lot of people employ product retouching services for their photographs to make them look better and more professional, when the camera setting is wrong, no amount of retouching can really get the image to look right. Among the things that you need to fully get a good grasp on are ISO, aperture, as well as light balance.
Mistakes that you need to avoid
If you are not really professionally trained to take the pictures, it is easy to just get on with the whole session without even considering whether everything is in the right order first. There are a lot of bad habits that you may have picked up along the way that you are likely to use in capturing photographs of the clothes that you are selling. It helps when you know what these are so you can avoid making them again and then ending up with disappointing images.
Most people are guilty of not really preparing the apparel. You need it to look good. So, if there are creases, iron it. If there are samples that look tattered, fix them up first. Your photos will look more professional when you get these easy to spot issues such as stains and wrinkles have taken care of before the shoot.
Not using a model or mannequin can be disastrous. Clothes are generally not going to look very flattering if you are just going to hang them on a hanger. For better flow and more emphasized curves and lines, use a mannequin. A live model is an even better idea if you can afford to hire one.
Deleting photos as you shoot is another bad habit. This is a mistake that you definitely need to avoid while doing the shoot. How the images look on the camera screen may differ from how they would look on the computer screen. So even though your fingers may be itching to get some of the somewhat bad shots deleted, don't.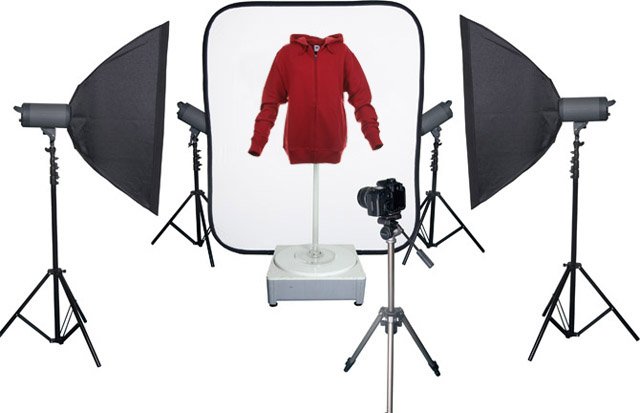 Preparations you need to do
Always take time to get things ready for the shoot. Everything will be smooth sailing and your pictures are likely going to be more professional looking when you have had all the preparations put in place before you start clicking away on the camera.
Pay attention to the garments and apparels that you are taking pictures of. Creases and wrinkle should be ironed out. Stains should be removed. Anything that will result in the apparels looking cheap and low quality should be addressed ahead of time.
Have the right background, Proper lightning setup for photography. Professionals suggest keeping it simple to keep the focus on the subject. Any light colored background is going to do wonders. The less distracting it is, the better.
In addition, keep it as natural as you can. The more filters you use, the less believable the resulting images are going to be.
Understanding the role of photo retouching
It is not enough that you have taken some good images. You will still need to have them touched up and edited if you want to get the best look. From color correction to getting them cropped to the right sizes, most companies employ the help of Photo Retouching Services to ensure that the images can get edited fast and with uniform results.
While apparel photography does take skills and the right equipment to perfect, it does not mean you cannot do it. A good understanding of some smart photography techniques should help you get high quality images of apparels that will help to boost your e-commerce store sells.