We are all familiar with the wonders of Photoshop and similar photo retouching services. Their ability to "improve" a model's appearance through color correction, skin smoothening and glamour retouching are undeniable.
Most models have no problem with the removal of a skin blemish through the use of skin smoothening, for example. Increasingly, however, controversy arises when publications take things "too far" by altering a model's appearance to match their impression of "beauty". This raises issues of self-image as will be seen from the following handful of examples.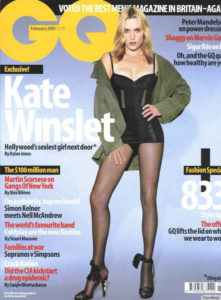 Kate Winslet's legs reduced
Kate Winslet graced the cover of the February 2003 of UK GQ magazine. The actress approved the photos prior to publication. Apparently, after the actress approved the photo to be used, GQ digitally reduced the size of her legs by around one-third. This did not go down well with the actress (and many others) who had no problem with Kate's legs in their natural state.
---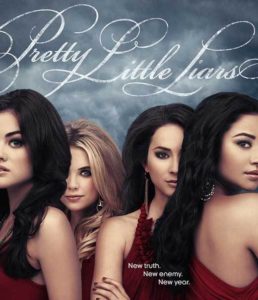 Ashley Benson – "Pretty Little Liars"
Not all media are as responsive as GQ was to their artistes' complaints. ABC Family totally ignored complaints by actress Ashley Benson that the promo photo for the fourth season of "Pretty Little Liars" had been excessively enhanced. "We all have flaws. No one looks like that. It's not attractive", the actress tweeted.
---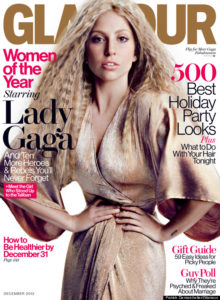 Lady Gaga Speaks out
Glamour magazine featured Lady Gaga on the cover of its December 2013 issue. The magazine also honored Gaga with one of its Women of the Year awards.
In typical Lady Gaga style, the flamboyant celebrity used the acceptance speech to blast the prestigious publication for using excessive photo retouching services to alter her body size, hair colour to conform with their own ideas of beauty. I do not look like that when I wake up in the morning", Gaga complained.
In response Glamour said that they were happy with their cover, as it was a fair representation of the way Lady Gaga looked on the shoot. Nevertheless, they were in support of Lady Gaga's bigger point and were also of the view that magazine covers should be representative of a wider range of the society.
---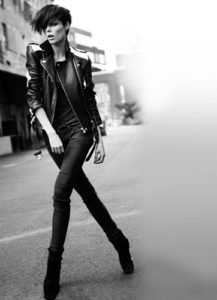 Coco Rocha
Outspoken model Coco Rocha was not amused when her cover photo for the May 2012 issue of Elle Brazil was retouched to remove the body suit she wore under her otherwise revealing outfit. Coco pointed out that the appearance of semi-nudity was against her specific verbal and written instructions and, in fact, was in breach of her contract.
---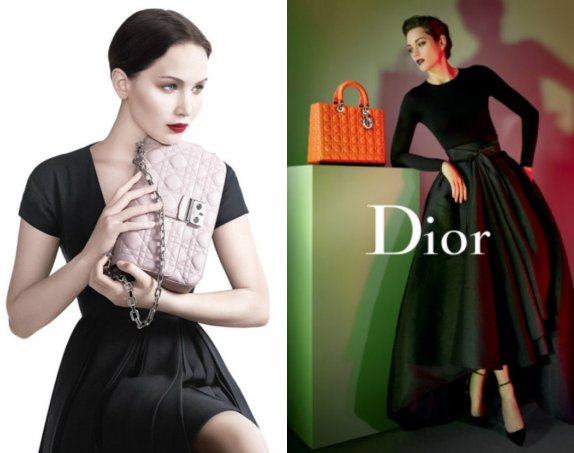 Jennifer Lawrence's Dior face
Since 2013 Jennifer Lawrence has been one of the "Many faces of Dior". (http://stylecaster.com/celebrity-faces-dior-jennifer-lawrence-marion-cotillard-charlize-theron-more/). Shown some of her own photos, J Law was amused to see how little resemblance it bore to the real her. (http://www.dailymail.co.uk/tvshowbiz/article-2285634/Jennifer-Lawrence-looks-stunning-set-Dior-campaign-reveals-love-Photoshop.html).
---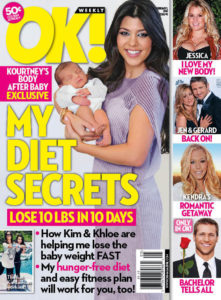 Kourtney Kardashian – Imaginary interview
In 2010 OK! Magazine featured Kourtney Kardashian and her then new born son Mason on its cover. Inside, there was supposed to be an "exclusive interview". Trouble is Kardashian told WWD she never spoke to the magazine. Moreover, her photo had been enhanced using Photo Retouching Services to wipe away most of the 40 pounds she had gained during her pregnancy.
---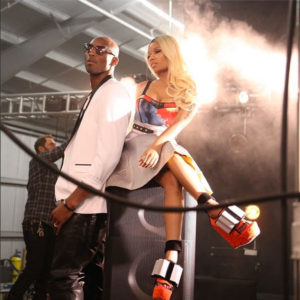 Nicki Minaj – How does my forehead grow?
The February 2014 issue of ESPN Magazine featured on its cover singer Nicki Minaj. Not surprisingly, the magazine's editors went way overboard using Photo Retouching Services. Minaj took to Twitter not once, but twice, complaining, among that among many other things, the length of her forehead had been significantly increased.
---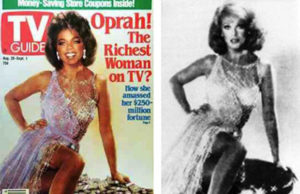 Oprah Winfrey on Ann Margaret
Then there is the amusing case where TV Guide, way back in 1989, superimposed Oprah Winfrey's head on Ann Margaret's body Talk about racial integration!
---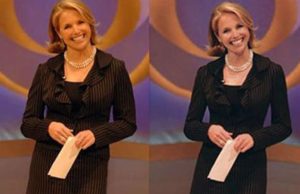 Will the real Katie Couric please stand?
In 2006 Katie Couric took over as anchor of CBS' evening news. However, it seems the network was conflicted over whether Katie should be slim or full bodied. So conflicted were they published two versions of the same promotional photo.
---

No Women Allowed  
When Osama Bin Laden was finally hunted down and killed by the Navy Seals in May 2011 newspapers all over the world carried a photo of then President Barak Obama, then Secretary of State Hillary Clinton and several others in a planning session at the White House the night before. However, the fact that women were actually involved in that planning exercise did not mesh with Orthodox Jews' view of reality. Fortunately for two Orthodox Jewish newspapers, Di Tzitung and De Voch Photo Retouch Services came to their rescue, removing Secretary Clinton and all other persons of the female persuasion from the photo.