Photo retouching refers to the process of editing a digital photograph to make it look professional. There are many different methods of retouching. The first step is to identify the problem and find the best tool to use for that job.
The Following Are Reasons Why Photographers Need To Learn Photo Retouching?
1) Improve the quality of photographs
Photographers use photo retouching to enhance the quality of photographs. Photo retouching enables a photographer to change the appearance of subjects who are not in focus thereby making the image more convincing. The presence of retouched photographs in an individual's portfolio is normally an indication of his/her level of professionalism and expertise.
2) Learn new skills
A professional photo retoucher can enhance your skills as a photographer. You will be able to learn a lot from him and give you an edge over many of your peers. They may even start looking at you in a different light, as they will admire your expertise in photo retouching. This can help to improve the way you are looked up to.
3) Save time
Photo retouching help photographers save time by enabling them to perform tasks that would take hours to complete in the past. When photographers capture images without considering the light, pose and other elements that make an image appealing, they will have to spend more time editing and retouching.
4) Impress your clients
Photo retouching can give you an edge over your clients and make them see your skills in a different light. It will help to impress your clients a lot. In situations where you have to arrange for photography services, then it is always recommended that you opt for photo retouching services.
5) Create person touch
Photo retouching enables a photographer to create a personal touch that cannot be captured during the shooting. It is a personal touch that can make an ordinary photograph look like a portrait taken by a professional photographer.
6) Increase your sales
A picture can be as beautiful and attractive as you want it to be. You will not always be able to convey the way you feel about your pictures to others. It is recommended that you make the most of your pictures by enhancing their looks and making them more attractive. This will increase the chances of making you more sales. You can also choose to sell digital prints of your pictures having photo retouching services done on them for more profits.
7) Get a good reputation
People always look for perfection in everything. If you are able to provide them with the best retouching job, then you will be able to earn respect and attain a good reputation among your peers. Your reputation will always remain intact, as you will be able to meet your clients' expectations and provide them with photo retouching services of the best quality.
8) Second opportunity to get it right
When you are looking to get your best pictures retouched, then it is a great opportunity for you. You can even get the same pictures retouched again at a later time if you feel that it could have been done better. As time goes on and as you learn more about photo retouching, you will be able to do it better next time.
9) Help photographer to develop a style
A photographer is in a position to develop a unique style of his own after learning photo retouching. As he learns more and more about photo retouching, he will be able to show his artistic capabilities. Photo retouching can help a photographer to build a brand image.
10) Get rid of weak areas in your work:
A photographer who is not interested in photo retouching may miss out on some of the weak areas in the picture. The photo retoucher will be able to identify those areas and work better on them. This will help to get your pictures right every time and avoid weak points that can ruin your photograph.
11) Enhance the impact and emotion in your pictures:
Photo retouching will help to enhance the emotion and impact in your pictures. You can make the most of your pictures and make them look more attractive. This will lead to a better impact on the audience as they get attracted to it. You can also sell these pictures at a higher price by making them look more attractive and professional.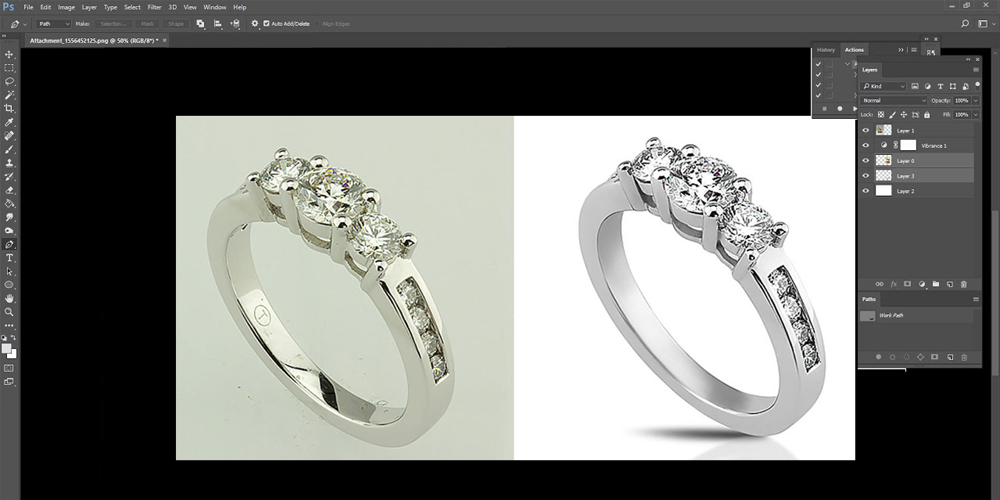 What is Product Retouching?
Product retouching is the process of refining a product to remove flaws or improve its appearance. It's a crucial step in the lifecycle of any visual design, including advertising, packaging, magazines and so on.
Why Product Retouching Is Needed?
1) To sell a product photo retouching Services is needed to enhance the impact of a product. If a product is not retouched, it will fail to impress the end-user. It is easier to sell the same product when it has been enhanced and perfected in every possible way. If you are planning to get an advertisement done, then it is recommended that you ask your graphic designer or photographer to leave out the retouching process.
2) To bring out the beauty of a product
A designer may have created a well-executed design when it comes to the physical appearance of the product. However, it may need some personalization to make it more beautiful. Product retouching is a great way of enhancing the beauty of your product and making it more appealing.
3) To enhance brand image
Retouching can help to increase your brand's appeal among your competitors in the market. A different product makes it stand out from the crowd and brings it to the attention of potential customers. This will also help to boost sales and bring in more money.
4) To bring out the details of a product
For a designer, this process is essential as they need to be able to see important details in a design. These details can be strengthened through retouching, which allows them to work on small areas and make them more beautiful.

Photo retouching services are essential to any photographer. It helps to make your photographs more attractive and stunning. Furthermore, it can help you to get more sales and expand your business.